Fiber Receiver / Collector
Features

Collects all wavelengths from 400nm to 700nm
10mm aperture
Adjustable focus
Aperture accepts 1/2" optics
SMA receptacle or pigtailed
Also a very good collimator
The FR10 Fiber Receiver was designed specifically to collect fairly collimated light and inject it into a 100mm core fiber. It will collect multiple wavelengths from 400nm to 700nm at the same time and inject it into the core of a 100mm fiber with greater than 90% efficiency.
This fiber receiver works much better than using other fiber collimators backwards. And because the Fiber Receiver is adjustable you can optimze the light collection resulting in a larger signal. Most fiber collimators in the market use a simply lens and are fixed at one wavelength and so do a terrible job at collecting light to inject into a fiber.
The FR10 Fiber Receiver is housed in stainless steel for ruggedness with an SMA receptacle. Focus is preset at the factory for collimated light. For the times when light is not as collimated as one would like, the focus can be adjusted by the user for optimal signal strength.
This Fiber Receiver also works very well as a Fiber Collimator for a broadband source. A nice feature is the internal threads at the aperture so that a cell containing a filter, focusing lens or other optic can be screwed on easily.
Ordering Information
Model #

Description

FR10-VBB-SMA

Fiber receiver / collector for 400-700 nm

FR10-NIR-SMA

Fiber receiver for 750-1600 nm

Accessories

FC10R-1.0

Fiber Receiver ring adapter for mounting into 1 inch optical mounts

FL10-XXX

Cell for filters, focusing lenses, other optics

FM-C100UV3C-001

100um step index fiber with SMA connectors

FM-C200UV3C-001

200mm step index fiber with SMA connectors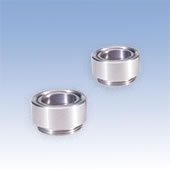 Fiber Receiver Cells for filters and other optics